Goldfarb at CLAS: Sandy Maisel Student Research Fellow Tamara Lukic '19 presents her research on displacement and forced migration in Serbia during the European refugee crisis at the Colby Liberal Arts Symposium April 27.
---
Letter from the Director
It would be hard to script a more fitting end to the academic year.
In mid-April we were pleased to host the 2017 George J. Mitchell Distinguished International Lecture, featuring Maine Senator Angus King. To a packed Lorimer Chapel, the senator charted the numerous, complex challenges in American foreign policy. Two weeks later, also to a standing-room only crowd, we sponsored a panel discussion of the media's role in the 2016 presidential campaign and the first few months of the Trump administration. And how gratifying it was to hear presentations at the Colby Liberal Arts Symposium from several students who received grants from the Sandy Maisel Student Research and Internship Fund.
I must say, however, that the cherry on top was our visit from Former Acting U.S. Attorney General Sally Yates P'17. Four years ago I was pleased to have Yates's son, Quill '17, in my Introduction to American Government course. It was during that semester when President Obama appointed Yates as deputy attorney general. With a beaming smile, Quill told me of his mom's new position and how hard she worked to get it. So you can only imagine how special it was to watch Quill introduce his mother to a packed house in the Page Commons Room.
And what a "Colby moment" it was to have dinner with Yates one night and a few days later read of her Senate committee hearing testimony in the New York Times in a piece written by Matt Apuzzo '00.
The end of the semester also marks the conclusion of my tenure as director of the Goldfarb Center. Starting next term, I will return to full-time teaching and writing in the Government Department. It's been a joy working at the center, and I think we've made a number of important innovations. But I've been doing administrative work of this sort for more than a decade and I feel ready to return to the core of my profession — intimate work with students. Rest assured the future of the center is extremely bright — interim director Patrice Franko will certainly move the ship forward.
I would be remiss if I didn't end my final newsletter with a heartfelt note of gratitude to a few folks. Provost and Dean of Faculty Lori G. Kletzer has decided to leave Colby, and she will be greatly missed. She chaired the committee that brought me to Colby and has been a source of consistent support and encouragement during my tenure. I am certainly not alone in benefiting from her insight, advice, and candor at critical moments.
It would be difficult to find anyone more committed to the vitality of civic life in Central Maine than Alice Elliott, associate director of the Goldfarb Center, and Lori Morin, Colby Cares About Kids coordinator. They have helped me better understand many of the challenges in this community and how Colby might best respond.
Unquestionably, our successes in the past five years spring, in no small measure, from the hard work and skill of Amanda Cooley, assistant director of the Goldfarb Center. The entire campus knows of her talents developing and implementing programs, but I also understand her strategic prowess and leadership skills. Her dedication and wisdom have made a huge difference at the center and to my work at Colby. I will always be grateful to have spent five years working with Amanda.
Finally, a heartfelt thanks to so many of you for your support over the years. I look forward to seeing you at future programs and events.
 Best Regards,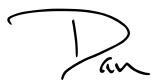 Daniel M. Shea
Director
---
Yates Talk Makes Headlines
Former Acting U.S. Attorney General Sally Yates P'17 made front page news following her talk at Colby, which was sponsored by the Goldfarb Center and the Oak Institute for Human Rights.
Yates "outlined what she thinks still needs to be done in terms of criminal justice reform," the Morning Sentinel reported May 3. The explosion in the U.S. prison population, caused, in part, by sentencing laws, comes "at a great cost to the prison systems through overpopulation, but also to the communities the prisoners were coming from," Yates said.
At the end of her talk, Yates challenged the crowd to make their voices heard on a local level. "Change happens in our country when our citizens demand it, when people stand up and say this is who we are and this is what we stand for."
Using 10 overarching points and a whiteboard, Independent Maine Senator Angus King shared his thoughts on foreign policy to a packed Lorimer Chapel at the 2017 George J. Mitchell Distinguished International Lecture April 19.
Senator King emphasized the critical need to understand the often precarious relationships among nations and their leaders: "It's very complex, and relationships differ according to where you are."
He cited Syria as a prime example, noting that more than 1,200 opposition groups have been organized against Assad, ranging from factions of moderate civilians to extreme jihadists. "These are things that we need to understand better when we try to stick our hand in and take a role in these issues, and the key is to clearly define what our interests are," he said.
Earlier in the day, Senator King joined Colby President David A. Greene for a tour of Waterville to see firsthand the revitalization efforts that are well underway in the downtown area.
For video of the lecture, click here >>>
---
Media Experts Weigh in on Reporting in the Trump Era
Three leading journalists led a lively 75-minute discussion on the challenges and opportunities of reporting the exceptional 2016 election and the Trump White House April 25.
The conversation delved into several major issues confronting the media in the raucous months following the inauguration, including continued assertions from President Trump that most mainstream outlets are publishing "fake news."
When asked how they will move forward with covering the White House given Trump's animosity toward the media, CNN Senior Enterprise Reporter Stephen Collinson said that although there are many unprecedented challenges, "in some ways it's a very good time to be a journalist — it really matters." Collinson said that gaining access to sources in the Trump White House is much easier than in past administrations, but messages can be unclear and getting to the root of their stance on policy issues continues to be difficult.
In addition to Collinson, panelists included Ali Watkins, a national security correspondent for BuzzFeed News, and Colin Woodard, the state and national affairs writer for the 
Portland Press Herald
 and 
Maine 

Sunday

 Telegram.
---