Academic Program
Learn more about the department courses and requirements
The Department of Classics encourages the study of the civilizations of Greece and Rome. The study of Classics and Classical Civilization is an interdisciplinary endeavor based on courses in languages, literature, history, archaeology, philosophy, political science, religion, and art. The pursuit of classics and classical civilization allows the acquisition of a liberal education by examining humanistic values of the ancient world and their impact on the pre-modern and the modern ages. Our majors find the study of the classics beneficial in developing methodological and analytical thinking and most advantageous in pursuing careers in higher education, law, management, medicine, government, art, teaching at the high school and college levels, and in many other fields. Not surprisingly, studying the great authors and orators of antiquity greatly enhances the written and oral communication skills of our students.
At Colby, the Department of Classics is thriving on a resurgence of interest in classical languages and culture. Currently, nearly 40 students have declared majors in classics and classical civilization, and nearly 20 more have declared minors. These numbers make us one the most successful Classics Departments in the country. The department offers majors and minors in Classics and Classical Civilization, as well as majors in Classics-English, Classical Civilization-English, and Classical Civilization-Anthropology. The Classics major concentrates on language and literature in Greek, Latin, or both. The Classical Civilization major encompasses all facets of classical culture but students are not required to study the languages.
Conduct Classics Research
Experience and analyze Greek and Roman literature, history, and the foundations of Western Civilization that still resonate in our lives today.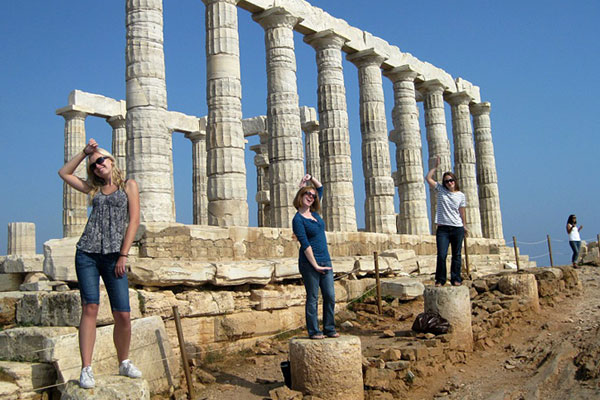 Walk the Streets of Greece and Rome
Study abroad in Athens, the birthplace of Greek tragedy, to see the Acropolis and Agora. Or visit Rome to investigate the historical contexts of literature and art.