Colby is committed to practices and policies that respect the environment and promote sustainable living principles. Pioneering academic programs and a historical commitment to green values made Colby a leader in environmental initiatives, and success is evident—in its dramatic reduction of carbon emissions, the effectiveness of the Environmental Advisory Group, and innovative environmental initiatives throughout the organization.  Many of the efforts highlighted below are supported or even spearheaded by students and faculty within the ES Department.
Colby is Carbon Neutral
Environmental Advisory Group
Students, faculty, and staff serve on Colby's Environmental Advisory Group (EAG), formed in 2000 to advise the president and the College community on environmental stewardship including sustainability, conservation, and alternative energy.  The EAG has proven successful at evaluating, recommending, and helping implement an array of ambitious green initiatives, many on this list.  The structure has served as a successful model for other institutions developing effective environmental policies and initiatives.  To see some of the issues that the EAG has worked on visit Green Colby.
Academic Programs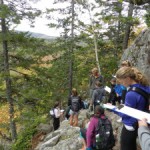 Colby was a national pioneer in the introduction of environmental programs in the early 1970s and continues its environmental leadership, offering rigorous and distinctive academic programs under the environmental studies umbrella.
Award Winning Green Power Practices
Colby's move to 100-percent renewable electricity sources, in 2003, helped establish a market for green power in Maine and led to national recognition for green power use. Purchased electricity has come from hydro, wind, and biomass. An on-campus cogeneration turbine supplies about 10 percent of the campus's electrical needs from steam-plant exhaust, and the College buys Green-E certified renewable energy credits for specific projects. In the EPA's green power championships, Colby had the highest percentage among participating colleges and universities nationwide in 2007-08 and 2008-09 and had the second-highest percentage in 2009-10. Reducing Energy Usage Green buildings and LEED Certification Colby has established a goal for all new buildings constructed to minimum LEED (Leadership in Energy and Environmental Design) silver standard.  All on-staff project managers are LEED-accredited professionals.  As of 2010, Colby has five LEED buildings, including two LEED silver and two renovated dormitories rated LEED gold (Pierce renovation (LEED Gold), Perkins-Wilson renovation (LEED Gold), Schair-Swenson-Watson Alumni Center (LEED Silver), Cotter Union/Bookstore project (LEED Silver), and Diamond Building (LEED).
Biomass Boiler
The College has begun construction on a biomass boiler, to be fully operational by the beginning of 2012, to reduce emissions from heating oil.  The biomass plant will handle an estimated 90% of the campus steam demand.  It will offset the use of more than one million gallons of residual oil a year with about 22 thousand tons of low-grade forest waste and debris from sustainable forest operations within roughly a 50-mile radius of campus. The twin 400-horsepower biomass-fueled boilers will produce steam for heat, hot water, cooking, and cogeneration of electricity. Fact Sheet >>
Geothermal Heat
Geothermal is used in the LEED Silver Building, the Schair Swenson Watson Alumni Center.  Geothermal works for both heating and cooling due to the water temperature at 1,500 feet remains consistently in the mid to upper 50s. When that water is pumped up into the building in the summer it is relatively cool compared to ambient air temperatures and it helps cool the building; in winter it's relatively warm and heats the building as its warmth is transferred to liquid in the building's heating and cooling systems.
More details about Colby Campus Sustainability
American College and University Presidents Climate Commitment President Adams, along with over 500 college presidents has signed the commitment pledge to exercise leadership by modeling ways to integrate sustainability into campus operations, reduce greenhouse gas emissions, and provide students with the knowledge they need to work toward climate neutrality.
Colby met the Governor's Carbon Challenge, which stipulated that we should, by 2010, reduce our emissions from 1990 levels by 9 percent. Two years before the deadline, Colby reduced emissions by 32 percent (10.6% net decrease).
2010 Colby College Climate Action Plan commits the college to being carbon neutral by 2015.
The 2011 graduation was the fourth Green Graduation that Colby has hosted. Events scheduled and supported by the Office of Special Programs, Physical Plant, and Dining Services incorporate current and new green practices including minimizing the use of plastics, reducing electricity use, increasing composting, low impact decorations, serving sustainable foods, using 100 percent recycled products, gown recycling, and reducing paper use, among other initiatives.
Excess water from the geothermal wells is used in and around the Alumni Center for toilets and irrigation. Rain gauges have been installed to control sprinkler use only when necessary. Reduced-flow shower-heads and toilets have been installed in dorms. Composting continues to save thousands of gallons every year after removing the garbage disposals.
Colby dining services consistently serve meals comprising of select locally produced organic food. The Foss dining hall is particularly notable because it specializes in vegan and vegetarian fare. Colby composts over 100 tons of pre- and post-consumer waste. Our composting and recycling initiatives have been recognized nationally.The Colby dining halls implemented trayless dining in 2008, saving approximately 79,000 gallons of water annually. Read more
RESCUE (Recycle Everything, Save Colby's Usable Excess) started in 2001-02 to capture clothing, household items, furniture, and other items that departing students leave behind. Now clothing and furniture are donated to local nonprofits and other items are cleaned and stored for sale the following fall, taking literally tons of material out of the waste stream for reuse. Annually, this sale saves about 525 cubic yards of usable goods from going to landfills. In 2003 RESCUE was named a "best management practice" by the EPA.
The entire 714-acre Colby campus is a State Wildlife Management Area. Colby's Perkins Arboretum is a 128-acre wildlife refuge used as an outdoor laboratory and also has cross-country running and ski trails. The Colby-Marston Preserve is a 34-acre classic kettle-hole sphagnum bog and is a National Park Service Registered National Natural Landmark. See map
In 2008 the Colby organic garden moved from an off-campus site to the top of Runnals Hill, a campus landmark.  The move allowed the plot to grow to half an acre. During the growing season the garden provides over 1,000 lbs of food to the Colby dining halls and local food pantry. During the summer Colby hires students as interns to manage the garden. Read more on the COFGA website.
This guide was developed by Jessica Kellett '04 as a January independent study project and was sponsored by various Colby departments. The purchases and lifestyle choices made by Colby students affect Colby's environmental footprint and the total energy and resources used on campus. The goals of this document are to promote environmental stewardship and awareness among Colby students. Go to the Guide. Visit Green Colby for more information on campus sustainability initiatives.