The Environmental Studies program offers interdisciplinary majors in environmental policy, in environmental science, and in environmental computation as well as a minor in environmental studies that can be elected by majors in any discipline. Each ES major provides a broad-based course of study and prepares graduates to understand and to address the many complex environmental challenges facing our country and the world.
Environmental Studies/ Policy
The interdisciplinary Environmental Policy major provides a broad, interdisciplinary approach to the study of environmental policy at national and international levels.  Students combine a foundation course in environmental studies with courses in environmental economics, domestic environmental policy and law, international environmental politics, and courses in environmental science. Diverse electives allow students to explore topics from introductory Geographic Information Systems (GIS) to endangered spe­cies policy to environmental and human health. Students complete the Environmental Policy Practicum capstone seminar in the senior year.
Environmental Studies/ Science
The Environmental Science major offers an introduction to national and global environmental issues and the opportunity to focus on science and the scientific basis for policy. This interdisciplinary major also begins with a foundation course in environmental studies and is followed by core courses in environmental economics, ecology, chemistry or physics, geology or GIS, and mathematics. Students can select focus areas from: conservation biology, marine science, environmental chemistry, and environmental geology.  Students can also propose well-structured alternative focus areas. The senior capstone seminar provides a hands-on approach to environmental science research. Students, acting as an environmental consulting firm, collaborate with the Maine Department of Environmental Protection and lake association members to investigate the impacts of land use patterns on a local lake chosen each year.
Environmental Studies/Interdisciplinary Computation
This major provides an introduction to environmental studies as a discipline as well as training in computational techniques used in environmental policy and science. Students begin with the foundation course in environmental studies followed by core courses in ecology and environmental economics. Additional courses in environmental studies and computer science, and a senior project enable students to become familiar with quantitative tools used to investigate environmental problems, especially GIS and remote sensing.
Environmental Studies Minor
The ES minor may be elected by majors from other departments and consists of seven courses. After an introductory foundation course, students choose a two-course couplet from a selection in both the social and natural sciences and two courses from a selection complementing their area of interest.
Study Abroad Opportunities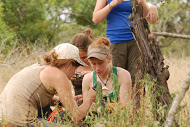 Our curriculum also makes good use of study abroad opportunities.  Program faculty investigate off-campus programs ES students elect with the goal of enhancing their preparation for study abroad as well as identifying ways to integrate their experiences more fully into their senior year.
Internship Programs
The Environmental Studies program has developed a highly successful internship placement program.  With initial funding from the ES Mellon grant and Colby, and now endowed funds, ES students have been able to participate in a wide range of internships during the January term or during the summer break.