Director: Prof. Branciforte
Email: [email protected]
On-campus representatives: Prof. Rizzo and Prof. Cannamela
Course code: IT125T
2022 Student Photos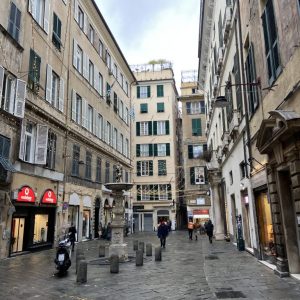 Testimonials
"I loved my time in Genova! All of the food was amazing. My landlady, Sonia, even taught me how to make pasta from scratch. Every person that I met on the trip was incredibly kind. My professor, Francesca, was so patient. She was the perfect intro language teacher. Genova is very central, so it's easy to travel to Nice, Monte Carlo, Portofino, Camogli, Boccadasse, and Florence. I bonded so much with the other students on the trip. It's an incredible experience to make lasting friendships in a place as beautiful and lively as Genova. Highly recommend the trip!"
Sophie P. | Jan Plan in Genova | Genova, Italy | January 2018
"Our JanPlan trip to Genova was out of my comfort zone in the best way possible. I arrived with no knowledge of Italian, but upon my departure I had fallen in love with both the language and the culture. This trip gave me the chance to see a part of the world I'd never had the chance to see, and it allowed me to make new connections with other Colby students."
Isabel W. | Jan Plan in Genova | Genova, Italy | January 2018
"It was an amazing experience with even more amazing people and I definitely learned more Italian than I thought was possible in such a short amount of time! I would definitely go back and do this again if I could. The people -the food- just the culture in general was truly great."
AJ D.C. | Jan Plan in Genova | Genova, Italy | January 2018
"I had a wonderful, sublime experience in Italy. Genova is brimming with life, culture, and history. My time in Genova opened me up to a whole new language and to a city which I would have not thought to visit had I been alone."
George P. | Jan Plan in Genova | Genova, Italy | January 2018
"I learned more Italian in one month than I thought was possible. Living in Genoa really helped that because Genoa is not a tourist city […] 100% would recommend this trip."
Corben D. | Jan Plan in Genova | Genova, Italy | January 2017
"The program itself was a lot of fun and it provided you with enough time to explore locally during the week and then travel further away if you wanted to on the weekend."
~Steven Z. | Jan Plan in Genova | Genova, Italy | January 2017
Fee
Fees for a 4-week program are in the range of € 2,200, excluding airfare, lodging and food.
Euro to USD currency converter
Package includes:
76 Hours of Instruction
Welcome and Farewell Dinners
Walking tour of Genoa
A cultural evening
Guided visit to Palazzo Reale
An excursion to Camogli
An excursion to Portofino
Accommodation in double or triple occupancy
(Fee does not include airfare, lunches or dinner)
Lodging
Study in Italy will arrange suitable lodging, double and triple occupancy. All accommodations are located in the center of Genoa and within proximity of Study in Italy in Palazzo Ducale. Supplement for single room: €200.
Meals
Food costs approximately €350 depending on where you choose to eat. The cost is around €250 if your room has kitchen privileges and you cook for yourself, and about €500 if you always eat out. Study in Italy provides students with discounts at local restaurants and cafes.
Courses
All levels of Italian language: beginning, intermediate, advanced
Intro to Literature
Art History
Travel
The cost of the flight depends on the date and place of your departure. Flying out of Boston on December 31st costs under $900.
Insurance
Insurance for the trip costs $55.
Eligibility
No prerequisites. The course is open to all.
Jan Plan Schedule
January 7- January 30, 2019.
Monday to Friday, 9:00a.m. to 1:00p.m.
Afternoons are often dedicated to excursions or free time. Weekends free for travel.
How to Enroll
Contact Professor Branciforte ([email protected]) for information regarding the application process.
Funding Possibilities
Presidential Scholars are eligible to apply for a Presidential Scholar grant.
If a student has applied for financial aid, and has not borrowed his/her full loan eligibility, s/he may check with SFS to determine if s/he can borrow to cover the costs.