Randi Radcliffe (She/They)
Hometown: Huntsville, Texas
CAPS 14 Class of '27

Randi not only played soccer for their high school, but also spent time as a referee for their local city league. During high school Randi also participated in the GetTX program at Sam Houston State University. The program is a National Science Foundation supported initiative to help expose high school and early college students to the world of Geology as well as assess their perspectives on the field. Not surprisingly Randi is interested in studying Geology and Ecology at Colby. Randi looks forward to participating in research during their college years and hopes to improve their study methods and skills. Randi also hopes to travel abroad during their time at Colby and of course spend some time laughing with new friends.
Demi Dankyi (She/Her)
Hometown: Cumming, Georgia
CAPS 14 Class of '27
Demi excelled in high school and is proud of her accomplishments. In addition to being in the top ten percent of her class, Demi was involved in the local PAL, beta club, the National Honors Society, HOSA which is an organization for future health professionals, as well as both the National Science and English Honors societies. Not surprisingly Demi hopes to major in Biology with a concentration in Neuroscience as part of her pre-med studies. Her faith is very important to Demi and she is thankful to her higher power for the blessings in her life. At Colby she plans on working hard and breaking boundaries.
Jesus (He/Him)
Hometown: Pasadena, California
CAPS 14 Class of '27
During high school Jesus was part of the varsity tennis team for two years, varsity wrestling for one year and he currently practices Brazilian Jiu-Jitsu and kickboxing outside of school. During this time Jesus also participated in the National Honor Society, Puente, Upward Bound, the Armenian Club, Asian Club and started his own club called Gym Club. Jesus also helps run a youth group which explores a variety of topics including current events. During his time at Colby Jesus plans on majoring in Biochemistry while also exploring other avenues of interest. Traveling abroad, conducting research and exploring opportunities in STEM fields while at Colby are all goals for Jesus. He hopes to do all of this while also meeting new people and having some fun.
Daisy Torres (She/Her)
Hometown: Houston, Texas
CAPS 14 Class of '27
Like most incoming first year students, Daisy lived through the difficulties of navigating her first two years of high school during the lockdowns and restrictions of the Covid pandemic. Because of this pause on in person meetings, Daisy made sure to pack her junior and senior years with experiences and activities, especially as a member of her senior year committee. Daisy was the editor for her school's yearbook and as well as being part of her high school's National Honor Society where she held the title of secretary.
Daisy is rightfully proud of being a QuestBridge scholar which brought her here to Colby. While at Colby Daisy hopes to major in Computer Science and/or Mathematics. She's also interested in exploring the work being done on campus surrounding Artificial Intelligence. Daisy is looking forward to achieving a deeper understanding of how various subjects interconnect and intersect throughout her four years of undergraduate study. Traveling abroad and gaining experience in research are also goals for Daisy while at Colby.
Alex (He/Him)
Hometown: Cojutepeque, EL Salvador & Houston, Texas
CAPS 14, Class of '27
Not only did Alex run an impressive 4:56 minute mile during his time at Sam Houston Math, Science and Technology Center, he was also a member of the number one Houston area JROTC physical training team. In addition to these accomplishments, Alex was also part of his local National Honor Society, and participated in his school's culture committee, junior committee, senior committee and archery team. 
While at Colby Alex plans on either following a pre-med course of study or majoring in Computer Science. He's looking forward to taking advantage of the many experiences afforded to students at Colby including participating in research and hopefully studying abroad.
Evelyn Stefli (She/Her)
Hometown: Aspen, Colorado
CAPS 14 Class of '27
Evelyn is a triple threat: academics, music and athletics are all areas in which Eveyln has pursued her passions and thrived. As part of the Aspen Skating Club Evelyn was not only able to hone her figure skating skills and compete but also to teach and judge events. Evelyn was also active in her school's concert, jazz and pep bands playing the tuba. A true jack of all trades, Evelyn has spent time learning ceramics and taking flying lessons when resources allow.
At Colby Evelyn plans on exploring a variety of academic areas including Physics, Choreography and Philosophy in hopes of finding what she's the most passionate about. Evelyn plans on joining a number of clubs including the Colby Figure Skating Club, various musical ensembles that include Tuba, the ceramics club as well as others. She is also looking forward to both traveling abroad and participating in research opportunities.
Dariana Lopez-Durro (She/Her)
Hometown:  Tijuana, Baja California, Mexico and San Diego, CA
CAPS 12 Class of '25
she/her
Dariana has been spreading the word and inspiring others to participate in Robotics not only through the club that she created at her high school which participated in the First Robotics Competition, but also as a volunteer for the robotics club at her previous elementary school. Dariana also volunteered at the Elementary Institute of Science and was a peer tutor at her high school. During her time at Ocean View Christian Academy Dariana was on the volleyball team, served as a yearbook editor, participated in the Associated Student Body and was a member of the National Honor Society. 
While at Colby Dariana plans on majoring in Astrophysics and participating in research opportunities as soon as possible. After Colby Dariana plans on attending graduate school.
Victory Osemobor (She/Her)
Hometown: Niles IL, USA
CAPS 12 Class of '25
During high school Victory explored her passion for medicine by volunteering for Cancer Kids First, participating in a Hospital Scholars Program and was honored with a Med School Coach award and the Congress of Future Medical Leaders award. Victory was also a member of the National Honor Society and served as a representative and ambassador for the Big Future College Board initiative by providing guidance and support to fellow students during the college application process. 
Outside of school Victory enjoys hanging out with friends and family, thrifting, taking trips into Chicago, playing volleyball, cheerleading, exploring the world of fashion, writing, and reading. She also loves collecting albums and listening to music.
At Colby Victory plans on continuing her journey towards a career in medicine by not only majoring in Biology/Neuroscience, but also taking full advantage of research and other opportunities related to medicine. Victory plans on developing new skills necessary to succeed in college while also getting involved in campus organizations, clubs and events. 
Raea Jordan (She/Hers)
Hometown: 
CAPS 14 Class of '27
Raea not only passed all of the AP exams she took while in high school but created an upward trend in her grades throughout her time at Benjamin Banneker. In addition to her academic achievements Raea participated in the GSA (gay-straight alliance), Girls Varsity Soccer, Girls Varsity Softball, Cross country, the WISE club (Women's Interdisciplinary Society of Entrepreneurship), and the embroidery club. 
At Colby Raea plans on continuing her academic successes while also creating lasting friendships and participating in either club or team soccer and the rock climbing club. Raea is also interested in exploring research opportunities and travel abroad opportunities. 
Ina (Beatriz) Alvarado (She/Her)
Hometown: Huntsville, Alabama
CAPS 14 Class of '27
After Covid disrupted in-person learning across the world, there was a lot of rebuilding to do. When Ina returned to the campus of her high school, it was immediately apparent that the school garden, once a source of fresh food for the community, was in disrepair. Instead of waiting for someone else to address the problem, Ina found a faculty member to be an advisor and along with some of her friends formed a club in order to bring the garden back to life. Ina is leaving behind a flourishing garden which offers fresh food to members of the community. For this work and effort she is rightfully proud.
While at Colby Ina is very excited to learn more about the various fields of psychology with a particular interest in attachment theory. She plans on majoring in both Psychology and Sociology and hopes to study abroad.
Joyce Odhiambo (She/Her)
Hometown: Elkhart, Indiana
CAPS 14 Class of '27
During her high school career Joyce started a small business making hand crafted kitchen towels. She sold them on Etsy, at her local farmers market and during a fundraiser for her church youth group. Joyce plays the violin and she was part of the orchestra during all four years of high school. She has also been singing in the school choir for two years. Joyce participated in track and field during her time at Concord High School competing in the pole vault. For three years Joyce ran cross country and was the team manager during her senior year. Joyce was also a student athletic trainer during this time.
At Colby Joyce plans on majoring in Biology in preparation for a career in medicine. She is excited about medicine as it will allow Joyce to combine her love of biology with service to others. While at Colby Joyce hopes to participate in research opportunities, especially ones that will allow her to explore the connection between biological discovery and medical innovation. And although Joyce has already had an opportunity to visit Guatemala, she looks forward to a study abroad experience in another Spanish speaking country.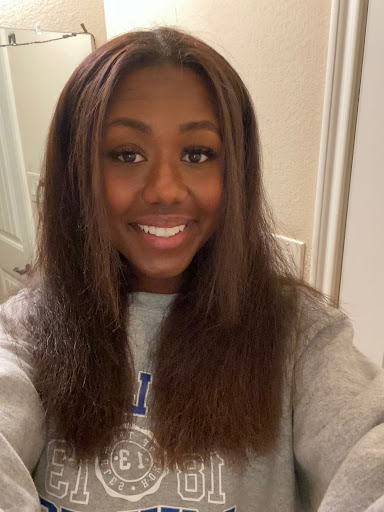 Azariah Love (She/Her)
Hometown: Frisco, Texas
CAPS 14 Class of '27
During high school Azariah competed in both track and volleyball at her high school and as part of club teams. She balanced these athletic commitments with their academics as well as working at a local Mediterranean restaurant, as a babysitter, and often fostering puppies.
Azariah is committed to completing the academic requirements for pre-med and hopes to be ready to apply to medical school when she graduates. She plans on majoring in Biology or Chemistry. While at Colby Azariah plans on finding opportunities to complete research in medicine with a particular interest in anesthesiology. Opportunities to study abroad are also something Azariah plans on exploring while at Colby
Abdelrahman (Abdel) Abdelsadig (He/Him)

Hometown: Alexandria, Virginia
Abdel is a graduate of Alexandria City High School (Formerly T.C. Williams H.S.) in Alexandria, VA. During his time at ACHS Abdel worked as a swim teacher, wrestled, and ran track. He loves to help those around him, watch anime, and read manga and other stories on his phone. At Colby Abdel is interested in studying Neuroscience and Philosophy. He is also looking forward to participating in COOT and the EMT program as well as exploring the academics, extra and co-curricular offerings at Colby.
Alexis Wilkerson (She/Her)

Hometown: Orlando, Florida
Alexis is a graduate of Oak Ridge High School in Orlando, Florida. During high school Alexis joined the National Honors Society, a community service club, helped set up a variety of sports and academic school events and worked as a head teller at the school bank. Alexis is proud of being part of a dual enrollment program at her high school that allowed her to earn her associate in arts degree as well as her diploma. Alexis is the first ever black valedictorian of Oak Ridge High School. Outside of high school Alexis is a part of several academic programs including the Upward Bound program at Rollins College, Horizon Scholars, and Art of Tomorrow.
For fun Alexis likes to get together with friends and family to go to the mall, shop at the local shops and hit some thrift stores. She also loves K-pop: collecting albums, going to concerts and buying photocards of her favorite artists. Of course, being from Orlando Alexis does have a favorite park, Universal Studios.
At Colby Alexis will be exploring various health sciences career options and is open to career and academic possibilities she might not yet have imagined. Alexis looks forward to making new friends at Colby and learning about the experiences of others.
Monewa (Moe) Tuila (She/Her)

Hometown: Greensboro, North Carolina
Moe is a graduate of Greensboro College Middle College in Greensboro, North Carolina. During high school Moe participated in Future Business Leaders of America, played tennis, became a certified nursing assistant and worked at a local Walgreens. She hopes to continue to play tennis while at Colby and is looking into whether she can become a CNA in Maine. Moe also hopes to explore new interests at Colby including the outdoors club, swimming, developing a personal exercise regimen, learning about sustainability, gardening and possibly volunteering at a local animal shelter.
David Roberts (He/Him)

Hometown: Farmington, Connecticut
David is a graduate of Farmington High School in Farmington, CT. During high school, David participated in the esports club and even won some tournaments with prize money. Outside of school, David has been taking weekly piano lessons for three years. David spends time with a close-knit group of friends, creating a kind, comedic, reliable and caring family.
At Colby, David plans on majoring in Computer Science while exploring the variety of courses offered throughout the various departments. David would like to finish his time at Colby as a generalist rather than a specialist, knowing a lot about a variety of disciplines and topics. Finally, David is hoping to meet lots of new people different from himself during his time at Colby.
Zora Lewis (She/Her)

Hometown: Stevenson, Maryland
Zora is a graduate of Saint Timothy's school in Stevenson Maryland. While there Zora was a part of the ASL (American Sign Language) and Anime clubs, took both Physics and Chemistry during her senior year, all while keeping up with her skills on both the clarinet and the bassoon. At Colby Zora is interested in majoring in Astronomy. She would also like to get involved with various club offerings and look for internship and networking opportunities. Zora also has her eye on the blacksmithing course that is offered during Jan Plan.
Elisa Artega (She/Her)

Hometown: Houston, Texas
Elisa is a graduate of Alief Hasting Senior High School in Houston Texas. While in high school, being involved in the school's orchestra was incredibly important for Elisa and the friends she made through that experience will always hold a special place in her heart. Academically, Elisa is proud to be one of the top 10 graduates in a class of nearly 800 students. During her time in high school Elisa obtained her Pharmacy Technician Certification while receiving an Associate of Arts in Multidisciplinary Studies. Outside of school Elisa is involved in her church as an active member and volunteer. Elisa enjoys spending quality time with friends doing anything from new activities to just being in each other's company. While at Colby, Elisa is going to be exploring a pre-health academic program with a potential major in Biology. While at Colby Elisa hopes to discover more about herself and clarify what her goals are for the future.
Ava Oseback (She/Her)

Hometown: Wayne, New Jersey
Ava is a graduate of Wayne Hills High School in Wayne, New Jersey.  While in high school Ava was on both the track and soccer team, held an officer position in the National Honor Society, participated in several clubs and was part of a yearly dance competition. In addition to her school commitments Ava worked at a local Italian ice shop and played on a club soccer team. She did all of this in addition to graduating 11th in her high school class of 350 students. Ava loves both hanging out with her friends as well as relishing time alone. Ava has a twin brother who is also off to college this fall. While he will be at Princeton, Ava is excited to be at Colby where she is committed to play on the women's soccer team. She also plans on following a pre-med course of study and getting to know her fellow students as well as faculty and staff that is uniquely possible at a small liberal arts college. After Colby Ava is considering training to become Physician's Assistant, but is open to other ideas. This summer Ava will be spending her time outside of CAPS taking advantage of the athletic facilities and getting into shape for soccer.
Joann Torres (She/Her)

Hometown: Dover, New Jersey
Joann is a graduate of Dover High School in Dover, New Jersey. During her time at Dover, Joann took Chorus and Dance as well as participating in dance club, and the women's ensemble. Joann loves to sing, and music is a big part of her daily life. In high school, Joann also ran cross country, was on the spring track team, became a peer mentor and through the Tiger R.A.P organization she was able to meet and guide younger students as they navigated high school. Joann is rightfully proud of taking 4 AP classes which made her one of approximately ten students in each of those classes. Joann is Mexican-American and comes from a small town that is predominately Hispanic, and because her friends and classmates have very similar family situations, the community is very close and empathetic to each other. Joann plans to major in Molecular Biology, but isn't 100% sure yet. While at Colby Joann is very interested in exploring the beautiful nature in Maine, joining the Latin Dance Club and trying out for the ensembles. She's very excited to be more independent, make new friends and do things that will make herself proud.
Paula Argales (She/Her)

Hometown: Charlotte, North Carolina
Paula Argales is a graduate of Phillip O. Berry Academy of Technology in Charlotte, North Carolina. During high school, Paula was active in her school Orchestra program and developed an interest in neuroscience through her studies in AP Psychology and Biomedical Technology. Paula was also involved in two national programs for high school students: HOSA (Future Health Professionals) and TSA (Technology Student Association) where she participated in events such as Leadership Speech and Scientific Visualization. Outside of school Paula helped to take care of her grandparents and younger cousin all while finding time to hang out with friends exploring the city of Charlotte. 
Following her interest in neuroscience Paula plans to major in Biology or Psychology, join the Biology Club and find research and internship opportunities in the field while at Colby. She is excited to work hard, meet passionate peers that she can form supportive connections with and finish school with a solid academic foundation that will set her up for future success.
Jason T. Marquez (He/Him)
Hometown: Kingman, Arizona
Jason attended Kingman High School in Kingman AZ where he won the KHS math/science award, was awarded several scholarships and graduated with the highest GPA in his class. Busy in the mornings as a member of the Spanish Club, Future Business Leaders of America and the National Honor Society, Jason also kept his afternoons packed with participation in both Cross Country and Tennis.
At Colby Jason plans to join club tennis, explore various internships and co curricular learning opportunities. Jason plans on majoring in English and pursuing a career as a plastic surgeon.
Taj Sean-Dwayne McDowell (He/Him)
Hometown: New Rochelle, New York
Taj attended Iona Prep in New Rochelle NY and resides in Poughkeepsie NY where he earned a cumulative 4.0gpa while also enjoying the football program at his school. After an injury in his junior year, Taj came back to play his senior year and it was his best year of play.
At Colby Taj will be a member of the football team and plans to complete a pre-med course of study. Taj has big plans for both his Football career and his plans to become a neurosurgeon. His enthusiasm for both football and becoming a surgeon abound in equal measure.
Juanita Onyinye McJaphet (She/Her)
Hometown: Randolph, Massachusetts
Juanita attended New Century Technology High School in Huntsville AL and has recently moved to Randolph MA. During high school Juanita participated in a Health Science Internship which helped her to understand more about the field she plans on pursuing after Colby. Juanita was a Magnet Ambassador, a National Society of High School Scholars Ambassador, and cadet of the month all while pushing herself academically and earning all As and Bs in her coursework. Outside of the classroom Juanita tutored elementary school students and was an active member of HOSA-Future Health Professionals.
Not only is Juanita a CAPS Scholar but also a Questbridge student as well.
At Colby Juanita plans on majoring in Biology with a concentration in Molecular Biology. She's also interested in taking a minor in either East Asian Studies or Spanish. Juanita is especially excited about the research and travel opportunities at Colby and plans to be an active member of the Biology Club and the Colby African Society. She's especially interested in research on Sickle Cell Anemia and plans to attend medical school and become a surgeon after her undergraduate studies.
AJ Keaton Feldman (He/Him)
Hometown: Somerville, Massachusetts
AJ attended Somerville High School in Somerville, Massachusetts, where he loved being on the track team and participated in math team, trivia team, chess club and science league. Academically Calculus, Chemistry and Biology were his favorite subjects. AJ also had the opportunity to partake in a summer program at Biogen Idec which he especially enjoyed.
At Colby AJ plans on majoring in Biology with a focus on molecular biology and biochemistry. He wants to understand cell functions more fully and participate in research working his way from assisting others with their projects to eventually designing his own research project.
After Colby AJ would like to take a few years before grad school in order to work for a chemistry or biology company in research.
Lesly D. Padilla (She/Her)
Hometown: Houston, Texas

Lesly attended Yes Prep Northbrook High School in Houston TX and is particularly proud of the fact that she made a decision to take her academics more seriously after her first year and give school her all. Her favorite activity was called "Leadership" and they explored issues around restorative justice including politics, mental health and world issues.
Lesly plans on studying Biology at Colby, looks forward to doing more hands-on research and will attend medical school after her four years of undergrad.
Vladimir Khabaev (He/Him)
Hometown: Ulan-Ude, Buryatia Russia 
Vladimir attended Cranston High School East in Cranston, Rhode Island. New to the US and to the English language, Vladimir, having only been in the country for three years, signed up to take AP English during his junior year. He assumed that it would help him improve his language skills but was unprepared for the challenge. But rising to that challenge and not only earning a B in the course but also a 4 on the AP exam was the academic highlight of his high school career. The work he had to put into the course and the obstacles he had to overcome made his achievement all the sweeter. In addition to his academics Vladimir participated in Math Club, Swimming Club, and enjoys hiking and playing guitar.
While at Colby Vladimir plans to double major in Mathematics/Mathematical Sciences and in Artificial Intelligence Studies/Machine Learning (or in some other computer-related field like programming). Of particular interest to Vladimir are opportunities to further explore mathematics and AI which is why he's especially looking forward to the Calculus curriculum here at Colby. Vladimir also hopes to participate in chess club and make time for hiking and swimming.
After Colby Vladimir plans on pursuing additional schooling and is interested in traveling as well.
Kyla Escalon Garner (She/Her)
Hometown: Bloomington, Illinois
Kyla graduated from Normal Community West High School in Bloomington IL. While in high school Kyla took advantage of a partnership with a local community college earning an Associate's Degree in Computer Science. In addition to continually being on the Dean's List throughout high school, Kayla also wrote a research paper she is particularly proud of regarding the superstitious and religious beliefs that shaped the practice of medicine during the medieval era of Europe. In addition to her academic prowess Kayla helped run a volunteer club, was president of the STEM Club and ran Tech for several high school theater productions.
Kayla plans to study Physics with a concentration in Astrophysics while at Colby and hopes to explore Maine through the various clubs on campus. She also is interested in Colby's Artist's Society.
Jolynda (JoJo) Saint Vil (She/Her)
Hometown: Miami, Florida
JoJo attended North Miami Senior High School in North Miami FL. During high school she fell in love with Biology even though she was not able to perform many labs. This is one of the reasons she's excited about studying Biochemistry at Colby, doing "hundreds of labs", and attending medical school after her four years at Colby. During high school JoJo enjoyed playing Flag Football and participating in many clubs, especially those focused on empowerment. She plans on being active in similar clubs while here at Colby.
Jay E. Talmadge (Any Pronouns)
Hometown: Mount Vernon, Washington
Jay attended Mount Vernon High School in Mount Vernon, Washington.
During high school Jay appreciated courses that incorporated real life applications of the subject matter and found that learning concepts that were difficult was rewarding especially when those topics overlapped with other subjects. Jay especially enjoyed the elective courses offered at their high school including beginning and advanced food, beginning floral design and forensic science.
Jay did speech and debate competitively on their state circuit and periodically on the national circuit. Participating in debate gave them opportunities to strengthen their skills as a public speaker and learn about current events, especially how the topics covered in debate impacted the daily lives of people.
Jay is hoping to earn a degree in STEM (most likely Science, Technology, and Society or Biology) with either a humanities minor or a professional certificate. Jay is open to pursuing other interests as she works her way through Colby. During their time at Colby Jay hopes to become EMT certified and explore clubs exploring ballroom dance, board games and environmental concerns. After Colby Jay is considering a master's program, but most importantly she wants to make sure that through their life and career they are making a positive impact on people which is why they think they will explore health care and teaching professions.
Jay is not able to fully participate in our summer program this year but they plan on hopping onto our Zoom sessions when time in their schedule allows.
Tiya Ouro-Ntiyi (She/Her)
Hometown: Bloomfield, New Jersey
Tiya is from Bloomfield NJ and attended East Orange STEM Academy High School where her love of Literature and Language was only matched by her love for AP Chemistry. While in high school Tiya also played soccer which allowed her to form important relationships with her teammates and coaches. As a member of Zeta Phi Beta Inc, Tiya became president of the Archonettes which is a mentoring program for young girls in her community. This experience taught her the importance of community service, hard work and also getting help when needed. The support system she formed through that work has been important to her resilience during high school and while at Colby.
Tiya is currently pursuing a Psychology major with a concentration in Neuroscience. She plans to minor in Women, Gender, and Sexuality and possibly double minor in Chemistry as well. All the while she will fulfill the requirements for pre-med. In addition to her academic interests Tiya is active in the Colby African Society, The Women of Color Alliance and the Natural Hair Club. She plans on becoming an active member of the Colby Photography Club and the Feminist Alliance in the coming years as well as taking advantage of opportunities to travel abroad and do research with a Colby professor.
After college Tiya plans on taking a gap year to prepare for the MCAT and gain some experience in a clinical setting before medical school.
Joey Lam (They/Them)
Hometown: Las Vegas, Nevada
Joey attended Durango High School in Las Vegas but will be joining us this summer from Oviedo Florida.
During high school Joey especially enjoyed AP World History and AP Biology and found that they were able to appreciate the learning experience over grades especially with these two courses. Joey also enjoyed the hands-on projects they did in their honors physics class. As a member of the Calculus Club Joey enthusiastically celebrated the club at school events, helped students prepare for the AP Exam and threw a huge pi day celebration.
At Colby Joey is studying Biology and looking forward to learning more about themself as an academic and taking courses in Art in East Asian studies. During the coming years Joey hopes to attend more Colby sponsored events and become an active member of campus life. After Colby Joey plans to attend pharmacy school and or graduate school to become a pharmacologist.
Zaniah (Zee) D. Brown (She/Her)
Hometown: Largo, Maryland
Before coming to Colby in the fall of 2020 Zee attended The Academy of Health Sciences at Prince George's Community College in Largo MD where she had a 5.0 gpa before the second semester of senior year. Because her school didn't offer any extracurricular activities she created two of her own clubs outside of school. The mission of one club was to support girls and the other was to keep young teens and children engaged in the community.
At Colby Zee is studying Biology and Economics and hopes to travel abroad once or twice while at Colby. After undergrad Zee plans on attending a Physician's Assistant program.
Arvin Dayo (He/Him)
Hometown: Saipan, Northern Mariana
Arvin was the valedictorian at Grace Christian Academy in Saipan in the Northern Mariana Islands before starting Colby in the fall of 2020. In addition to his participation in CAPS, Arvin is also a Questbridge Scholar. While in high school Arvin participated in Volleyball, Tutoring, the National Speech and Debate Association and was a Library Assistant. While at Colby Arvin is studying Microbiology and Biochemistry, hopes to obtain employment at the school and perform research under the supervision of a Colby Professor. He plans to do all this while staying focused on academics and volunteering in the local Waterville community. After Colby Arvin is still considering many possibilities including laboratory research work, additional schooling and hopefully moving to the west coast.
Ethan Alcazar
Hometown: Eaton, Colorado

Ethan Alcazar is a graduate of Eaton High School in Eaton, Colorado. He was in many leadership roles during his time in high school, including being an officer of his school's Key Club, captain of his varsity golf team, trombone co-section leader in concert band, and holding various positions on the United Way's Youth Allocations Committee Board. Ethan is well versed in mathematics, literature, hands-on fabrication, computer science and programming. In his free time, he enjoys golfing, skiing, riding road bikes, outdoor mountain activities, and working on engines.
While at Colby, Ethan plans to enroll in the Dual-Degree Engineering Program and major in physics with a minor in mathematics. At the partnering institution, he plans to major in mechanical engineering. Ethan wants to harness energy from the combustion of hydrogen, ultimately creating a highly sustainable jet engine.
Philip Ampong
Hometown: Kumasi, Ghana
Philip Ampong is a Ghanaian-born native who joined his family in the United States a year ago to further his education. He started his high school education in Ghana at Adventist Senior High School and graduated from Stebbins High School in Dayton, Ohio. Right from his first year of high school, his passion for music influenced him to join his school's choir, which won the regional choral competition twice. In Ghana, Philip was also a member of his school's National Science & Mathematics Quiz Team and student body government. His favorite activity, however, is volunteering as a tutor.
At Colby, Philip plans to major in computer science and participate in Colby's Dual-Degree Engineering Program. He hopes to continue following his passion for music and partake in other extracurricular activities. During his free time, Philip may be seen playing soccer, reading a good book, or just dancing.
Lensky Augustin
Hometown: Fruitland, Maryland
Lensky Augustin attended James M. Bennett High School in Salisbury, Maryland. During all four years of high school, Lensky was 1st chair double bass for the Wicomico County High School Orchestra. He was also an active member at his church, playing the piano every Sunday, and sometimes even the electric bass. Along with his passion for music, Lensky was a member of the Salisbury Americorps' Youth Civic Council, where he helped make a difference in his community through various projects around the city. Because of his love for civic engagement, Lensky plans to create a similar program for high school students in the Waterville area.
At Colby, Lensky plans to major in psychology with a concentration in neuroscience in hopes of becoming a neurologist specializing in autism and Alzheimer's disease. He also hopes to join the Colby Symphony Orchestra and continue playing the double bass.
Chanel Boykins  
Hometown: Reynoldsburg, Ohio
Chanel Boykins is from Reynoldsburg, Ohio. She graduated from Reynoldsburg eSTEM Early College Academy as a valedictorian, honors student, and distinguished scholar. Throughout high school, Chanel was an active member of the National Honor Society and played violin for both the Reynoldsburg Concert and Symphony Orchestras. In high school, she completed an internship that investigated macroinvertebrate diversity and stream health in Central Ohio. Outside of the classroom, Chanel participated in cross country as a varsity runner for four years/
At Colby, Chanel plans to major in biochemistry. In her free time, she enjoys running, writing, and studying genealogy.
Catherine duBoulay
Hometown: Westport, Connecticut 
Catherine duBoulay is from Westport, Connecticut and graduated from Hopkins School in New Haven, Connecticut. She is interested in biology and chemistry, and developed a passion for neuroscience during a summer research internship at the Yale Stem Cell Center. At Colby, Catherine intends to study biology with a focus in neuroscience. She is excited to continue her research and ultimately plans on attending medical school. Catherine hopes to explore Colby's academic offerings and pursue a minor.
Catherine played varsity tennis for all four years of high school and intends to stay active at Colby. She would like to join Colby's Outing Club and is looking forward to exploring Maine.
Lisa Enaye
Hometown: Newtown, Connecticut 
Lisa Enaye is from Newtown, Connecticut and graduated from Newtown High School. She enjoys the sciences and wishes she could have fit more classes into her schedule back in high school. Her favorite science course was biotechnology, but she also enjoyed chemistry and earth science. Lisa also has many interests outside of school, including theater.  She performed in musicals, was a part of the stage crew, and even directed and produced a few plays in high school. She also worked on an independent project, a children's novel, which is embossed in braille. Lisa enjoys volunteering and has been heavily involved in service at Danbury Hospital.
While at Colby, Lisa plans to follow a pre-med track and major in psychology with a neuroscience concentration. She has a great interest in the workings of the human mind. Along with academics, Lisa looks forward to being involved in extracurricular activities such as student government, volunteer groups, and music programs.
Chioma Ezuma-Ngwu
Hometown: Norfolk, Massachusetts
Chioma is from Norfolk, Massachusetts and attended King Philip Regional High School. Chioma spends most of her time volunteering for a number of organizations. She started volunteering at her local library and then, during her senior year, went on to spend over 140 hours as a volunteer at Sturdy Memorial Hospital. Chioma was also active in school. She helped to create a writing center, became a writing tutor, and was a peer mentor for students with disabilities. Chioma enjoys creative writing and music, and spends her free time writing short stories and playing piano.
Chioma plans to major in psychology, with a concentration in neuroscience, and minor in creative writing. She hopes to become a doctor and is excited to explore extracurricular activities, like clubs and volunteer groups.
Jordan McClintock
Hometown: Wading River, New York 
Jordan attended Shoreham Wading River High School, graduating with Principal's List Honors and an AP Capstone Diploma. An active volunteer throughout her high school years, Jordan accumulated over 1,000 hours of community service. This included her work as a junior volunteer at John T. Mather Memorial Hospital, a Juvenile Bureau Court Justice for the Town of Riverhead's Youth Court, a volunteer tutor for local students, a student government officer, and a member of her school's Natural Helpers chapter, where she learned skills to aid at-risk students suffering from depression, anxiety, and other mental illnesses.
Additionally, Jordan was president of the National Honor Society, captain of her field hockey team, a senior member of the Stony Brook Women in Science and Engineering chapter, and a co-founder of her church's youth group. An active Girl Scout, she attained her Bronze, Silver, and Gold Awards. The latter, which centered on cardiac health in student athletes and had a valued grant equivalent of $400,000, provided free health screenings, echocardiograms (ECGs) and AED/CPR education for athletes on the East End of Long Island.
Jordan is ecstatic to be attending Colby as a Ralph Bunche Scholar and a member of CAPS 9. Maine has always been close to her heart and she has fond memories of hikes in Acadia National Park and candlepin bowling in Bangor. She is a prospective physics major on a pre-medicine track with hopes of becoming a pediatrician. Jordan is looking forward to working with esteemed faculty, amazing students, and – of course – to call herself a Mule.
Jayla Moss
Hometown: Mount Pleasant, South Carolina
Jayla graduated from Wando High School with the highest distinction, ranking in the top twenty percent of her class. She is an active volunteer at the Medical University of South Carolina, a mentor, and a varsity track athlete. Jayla plans to make a positive impact on her new Waterville community and to compete in track and field at the collegiate level. Throughout high school, Jayla focused on biomedical and health science classes. She loves to enhance her knowledge and has a strong passion for solving problems.
Jayla plans to study biochemistry and Spanish at Colby and hopes to pursue a career in genetic engineering. She is excited to learn another language and make great memories in the upcoming school year!
Emilie Pilchowski
Hometown: Renton, Washington
Emilie Pilchowski is from Renton, Washington and attended Interlake High School in Bellevue as an International Baccalaureate student. She also spent a lot of time growing up in Guadeloupe in the French Caribbean. Emilie's primary passion is the environment, a path she pursued by taking advanced level classes in biology and environmental science. Furthermore, she volunteered at the Seattle Aquarium for three years where she interned with biologists and mentored her peers. Additionally, Emilie is actively involved in social justice. She was a member of TPAP, a teen peer advocate group, where she received training on a variety of topics, including dating violence, sexual assault, and rape prevention, gender roles, and healthy relationships. She then presented on these topics to other youth. TPAP is special in that the issues are discussed through a cultural lens, specifically focusing on the experiences of women with immigrant parents.  Emilie enjoys exploring Seattle and the surrounding outdoors.
Emilie hopes to major in either environmental science or biology. Additionally, she would like to explore the possibility of double majoring or minoring in the global studies program. Finally, Emilie is excited to discover Maine's easily accessible outdoors.
Mila Reeves
Hometown: Harlem, New York 
Mila Reeves, born and raised in Harlem, New York, graduated from Columbia Grammar and Preparatory School in Manhattan. At Columbia, she always gravitated towards STEM subjects, and upon entering her freshman year of high school, Mila realized this was a field she aspired to pursue in college. Her specific interests fall into the fields of biology, chemistry, physics, and mathematics. She also has a knack for Spanish and is considering minoring in the language at Colby. In addition to academics, Mila enjoys playing basketball and has been a dancer, both inside and outside of school, since she was five years old. With this, she has taken over her church's praise dance ministry as the head choreographer. Lastly, one of the main principles of Mila's everyday life is diversity and its importance. In high school, she was an active member of the Multi-Ethnic Cultural Awareness Club, and in twelfth grade, she took on the role of being a senior leader. Her duties as a senior leader included coordinating meetings, leading presentations, and educating and provoking change in Columbia's faculty surrounding students and their identities.
At Colby, Mila plans to take part in the Dual-Degree Engineering Program with Columbia University, majoring in either chemistry or biology and minoring in Spanish. With this, she is excited to take advantage of Colby's amazing faculty support. She also plans to continue dancing and playing basketball at a club or intramural level. Mila hopes to take on a leadership role in cultural clubs and organizations, as this has been a non-academic passion of hers for as long as she can remember. In addition to college life, she also plans to explore the city of Waterville.
Chiamaka Ubani
Hometown: Elmont, New York 
Chiamaka attended Elmont Memorial High School in Elmont, NY. Sports were a huge part of her high school years, and since seventh grade she's played soccer, basketball, and lacrosse. Being a student before an athlete, she took AP courses and excelled in all her classes. She not only graduated at the top of her class, but was also named Scholar Athlete of the Year. Her time volunteering at her school's PALS (Providing Autism Links and Support) program had a meaningful impact on her, and she hopes to participate in similar programs at Colby. Chiamaka plans on majoring in biology and pursuing a pre-med path in the hopes of becoming a pediatrician. Finally, Chiamaka is very excited and grateful that she is able to continue her lacrosse career at Colby.
Chioma Andrea Akali
Hometown: Sacramento, California
Chioma Andrea Akali is from Sacramento, California. After middle school, she moved to Nigeria to learn more about her Igbo heritage and attend British Spring College in Awka. She represented her school in the National Mathematics and Science Olympiad, coming out in the top three multiple times. During her stay in Nigeria, she also volunteered for a local non-profit organization that worked with impoverished youth and widows. Her volunteer work gave her a greater appreciation of life and a desire to help those around her.
Chioma is interested in pursuing a career in the medical field. At Colby, she plans on majoring in psychology with a concentration in neuroscience and a minor in computer science. In her free time, she enjoys designing and sewing clothing, playing soccer, and reading a good book.
Nicole Byrd
Hometown: Edwardsburg, Michigan
Nicole is a graduate of Edwardsburg High School in Michigan. She is involved in many service organizations that allow her to give back to her community. Nicole is also first runner up to Miss Edwardsburg 2017. One of her favorite pastimes is reading and her favorite author is Paolo Bacigalupi.
Nicole plans to study cellular and molecular biology, and is considering a double major in French. Nicole hopes to be able to share her passion for science and language through laboratory work or teaching
Charlyna Gonzales
Hometown: Vadito, New Mexico
Charlyna Gonzales is from Vadito, New Mexico. She graduated from Peñasco High School alongside her small class of 19 students. Charlyna participated in athletics, including volleyball, track and field, and basketball, and continues to have a passion for running. She graduated with an associate's degree in the liberal arts from Northern New Mexico College and for the past two summers, worked as an intern at the Los Alamos National Laboratory. It was there that she first gained an interest in physics.
Charlyna plans to major in physics and participate in the Dual-Degree Engineering Program so she can pursue biomedical engineering. She is grateful to be a QuestBridge scholar and hopes to encourage others to work hard and never sell themselves short of accomplishing their goals.
Derek Hernandez
Hometown: The Bronx, New York
Derek is coming to CAPS from Bard High School Early College in Manhattan, New York. With the help of his high school's college counselors, he was able to receive two full scholarships to spend three weeks at Cornell University studying law and three weeks at Carleton College conducting scientific research on the magnetic field strength of the midcontinental rift under Minnesota. Derek has a deep passion for forensic science and hopes to reduce the number of wrongful convictions.
Derek is coming to Colby on a QuestBridge scholarship. He plans on majoring in chemistry so he can attend graduate school for forensic science. Derek is also excited about spending four more years in a small liberal arts environment because he loves getting to know people, especially his professors.
Ja'Sean Holmes
Hometown: Memphis, Tennessee
Ja'Sean attended White Station High School, graduating in the top 6 percent of his class. A highly diligent student who maintained the various responsibilities of his AP classes and extracurricular involvements, Ja'Sean is proud to join Colby College as a QuestBridge scholar. He credits the National Society of Black Engineers (NSBE) and STEM Virtual Academy for his interest in engineering. Ja'Sean plans to continue his involvement in NSBE by establishing Colby's very first chapter.
Ja'Sean also has an interest in community service. He shares that he's from an indigent environment and hopes to improve the communities around him through science. His past involvement with Teach For America has taught him the importance of education. At Colby, Ja'Sean plans to study molecular biology and enroll in Colby's Dual-Degree Engineering Program. He also intends to continue his studies in the Spanish language with the goal of learning more about the cultures of the Spanish-speaking world.
Gustavo Jimenez
Hometown: Brooklyn, New York
Gustavo Jimenez attended Achievement First University Prep High School in Brooklyn, New York. During high school, he became involved and interested in robotics. He credits this work with helping him discover who is and what he loves to do.
At Colby, Gustavo intends to continue his work with technology. He hopes to use his experience and passion for technology for the good of society and the field of medicine. Gustavo enjoys spending time with friends and exploring new places.
Mackjeannie Joseph
Hometown: New London, Connecticut
Mackjeannie Joseph lives in New London, Connecticut and graduated from New London High School. Throughout high school, she focused on the sciences, attending medical and health science magnet schools. As a senior, she took classes such as human body structure and medical intervention.
Mackjeannie will be attending Colby as a QuestBridge scholar and plans to major in biology. Her future goals include medical school and becoming a pediatrician. Mackjeannie's hobbies include reading, listening to music, and playing volleyball and soccer. She also enjoys learning about other cultures and languages. Mackjeannie currently speaks four languages including English, French, Spanish, and Creole. At Colby, she would like to study another language.
Emmanuel Sogunle
Hometown: Aurora, Colorado
Emmanuel graduated from Vista Peak Preparatory High School in Colorado. While in high school, Emmanuel was president of his school's HOSA chapter, vice president of the National Honors Society, and an active member of the Black Student Alliance. Emmanuel is very proud of everything he was able to accomplish during high school and is ready to continue his journey at Colby.
Emmanuel is interested in pursuing a degree in computer science and economics and is very excited for the many opportunities Colby has to offer both academically and socially.
Elizabeth Stephens
Hometown: Chevy Chase, Maryland
Elizabeth Stephens graduated from Bethesda-Chevy Chase High School. She completed the IB Diploma program, studying higher level courses in biology, history, and English. Elizabeth enjoys long-distance running, making pottery, reading Toni Morrison, and watching Chinese and Korean dramas. Throughout high school, she was active in the Chinese calligraphy club and Peer Partners (tutoring), as well as volunteering at a senior home and the non-profit A Wider Circle. One of her fondest experiences is studying Chinese in Beijing for six weeks during the summer of 2015. Elizabeth is a recipient of the QuestBridge scholarship at Colby.
While at Colby, Elizabeth plans to major in biology, specializing in either biochemistry or neuroscience. Now in her seventh year of study, she looks forward to continue learning Mandarin on campus and abroad. Last but not least, Elizabeth is excited for snowy winters and many more chances to eat the Maine delicacy—whoopie pies.
Kayla (Kay) Wesley
Hometown: Brooklyn, New York
Kayla graduated from Achievement First Brooklyn High School. She is a singer and political enthusiast. Kayla was captain of her public forum debate team for two years. In her free time, she enjoys hanging out with friends.
At Colby, Kayla plans to pursue either political science or neuroscience, and is considering minoring in African Studies. Kayla cares a lot about mental health in the Black community, but also the systemic treatment of Blacks in America. She wants to make a difference in race relations in America.
Connor Wilson
Hometown: Johnson City, Tennessee
Connor is from Johnson City, in northeastern Tennessee. He went to Daniel Boone High School, where he played soccer and was involved in many clubs and societies. He also enjoys outdoor activities. Connor plans on pursuing a double major in neuroscience and international relations, with hopes of becoming a pediatric neurosurgeon.
Derek Zapata
Hometown: San Antonio, Texas
Derek Zapata graduated with distinction from Claudia Taylor Johnson High School in San Antonio, Texas. Derek's academic interests have always revolved around the sciences, and he studied biology, chemistry, and physics in high school. In addition to core academics, Derek has a passion for music. He played cello in the Johnson Varsity Orchestra for four years and competed at the district and state level in solo competitions. Derek also has extensive volunteer service. One of his favorite volunteer opportunities was with Children's Association for Maximum Potential (CAMP), where he was a counselor at a summer camp exclusively for children and young adults with special needs. Derek enjoys creative writing, and has a passion for writing poetry, songs, and occasional short stories.
At Colby, Derek plans to major in physics with a concentration in astrophysics, but wants to explore more academic territory before deciding his minor. He hopes to continue playing cello in Colby's orchestra program, and would like to learn more about music theory and composition in Colby's other music-based programs. Derek is ambitious about joining extracurricular activities, including clubs, volunteer groups, and perhaps intramural sports.
Bethashley Cajuste
Hometown: Tampa, Florida
Bethashley graduated from Land O' Lakes High School in Florida. She is a contemporary dancer and avid reader. One of her favorite genres is old mystery books, such as the Sherlock Holmes series. Bethashley is proud of her work with the International Baccalaureate program and the closeness of her IB group.
At Colby, Bethashley plans to pursue Environmental Science and Policy. She is considering a double major in International Relations. Bethashley is especially interested in political ecology. She wants to make a difference solving environmental issues in developing countries.
Krisla Canales
Hometown: Houston, Texas
Krisla attended the Yes Prep East End Public School in Houston. Yes Prep is a school for grades 6-12. Upon graduation, a ceremony is held with all Yes Prep campuses for the senior class to announce their graduation and plans. Krisla remembers this moment and her announcement to attend Colby as one of the proudest moments of her high school career.
Krisla is inspired to try many fields Colby in the liberal arts school setting. She would like to pursue medical school and a health-related field in the future. In Houston, she was part of a youth group through a small Baptist church. She also enjoys running. In her spare time, Krisla enjoys hanging out with friends, finding new places to eat, and trying new activities.
Emily Carter
Hometown: Sallisaw, Oklahahoma
Emily became initially interested in chemistry through her high school class at Sallisaw High School in Oklahoma. She comes to Colby to pursue a major in Environmental Science and the chemistry behind it. While in high school, Emily worked at a Long John Silver's restaurant. She enjoys playing with little kids and loves caring her younger brother.
Emily says that where she is from, not a lot of people are inspired to succeed. She is proud of receiving a Questbridge Scholarship and she is proud of the respect she receives from her hard work. Emily hopes to motivate people who lack a vision for the future.
Kris De Luna
Hometown: Houston, Texas
Kris attended the Awty International School in Houston, Texas. She is proud of her success and substantial scholarship at the competitive high school, and is proud to come to Colby as a Questbridge scholar. At Colby, Kris plans to major in Biology. The IB program at her high school helped her discover Biology in depth. As a "hands-on learner," Kris wants to become a doctor and a surgeon.
A piano player for nine years, Kris would like to pursue a new instrument at Colby. She is also excited to travel more. Already, she has been to Turkey and Holland while in high school. Kris won the French competition at her high school. Kris comes from a large family with a younger brother and two cousins the same age as her and her brother.
Holly Lauren Garcia
Hometown: Miami, Florida
Holly Lauren Garcia attended the Robert Morgan Educational Center in Miami, Florida. For the past two years, Holly Lauren tutored elementary school students in grades K-8 in all subjects. She is proud of them for their success. Holly Lauren is a lyrical dancer, a style of contemporary dance with ballet and jazz influences. She enjoys reading Victorian literature. Ayn Rand's is one of her favorites.
Holly Lauren plans to double major in Psychology and Literature. She hopes to make a difference by learning to understand people. Holly is especially interested in understanding people "through the ages" and learning how people thought about their world in the past.
Garrett Genco
Hometown: Queens, New York
Garrett comes to CAPS from Franklin Square High School in Queens, New York. He grew up outside of Suffolk and moved to New York for his high school years. For the past few summers, Garret has interned at the Brookhaven National Laboratory in Upton, New York. During his first summer there, he studied many different sciences. During the second and third summers, Garret worked on environmental science projects that inspired his pursuit of the sciences. One of his projects was to assess the health and biodiversity of a river near St. James, New York. He comes to Colby interested in pursuing the biosciences. He aspires to become a zoologist or wildlife biologist. Garret is also interested in exploring communications and sports writing at Colby.
Stephanie Gonzalez Martinez
Hometown: Aurora, Colorado
Stephanie graduated from Cherry Creek School in Colorado. She is a hard worker. Due to her dedication to AP classes and student organizations, she is a proud recipient of the Questbridge scholarship. Stephanie was active in Key Club, the National English Honor Society, and Latin Honor Society. As a member of the United Latinas club, Stephanie participated in the Colorado Organization for Latina Opportunity and Reproductive Rights. Through the Denver organization, Stephanie went to Washington, D.C. to lobby for government rights and a new perspective of health care.
This experience is one of many things that inspired Stephanie to pursue Biology at Colby. She is excited to join the small liberal arts school environment that Colby has to offer. Stephanie would like to get to know the professors and create a personable academic community where she can explore her interests.
Juan Luna
Hometown: Hollywood, Florida
Juan is from Hollywood, Florida where he attended McFatter Technical High School. There, Juan was the president of his high school environmental club. Under his leadership, the club received recognition from the National Wildlife Federation and the Environmental Protection Agency for their positive influence in the Hollywood community. He also started a community cross country club, promoting his belief after experiences with costly sports that exercise should be free and open to everyone.
Juan recently received his certificate for medical assisting in May, allowing him to work in clinics and be appointed as a phlebotomist, EKG analyst, and Health Care Provider. Juan is a recipient of the Questbridge scholarship at Colby. Juan is inspired to pursue studies in global health at Colby. While he already speaks Spanish, at Colby he looks forward to learning more languages and studying abroad.
Victoria Marion
Hometown: Cranston, Rhode Island
Victoria is from Cranston, Rhode Island where she graduated from Cranston High School East. She enjoys playing tennis, biking, and reading. Victoria is proud of her success in track and field in high school. She began throwing discus during her junior year. After months of hard work and some surprise talent, Victoria took second at the state championships. Victoria plans to pursue neuroscience and stem cell research at Colby. She first became interested through a Brown University's Brain Science program. Victoria remembers one particular student researcher putting sensors into a tadpole's head to track brain waves and sharing stories of his own journey with neuroscience. Victoria decided then that she wanted to dive in and see where the neuroscience field takes her as an important and developing field.
While at Colby, Victoria would also like to study German language. She has fallen in love with the people and landscape of the country through her godfather's stories of being stationed there during the Vietnam War. She is inspired to travel abroad there and form her own experiences with German culture.
Abraham Pineda Jr. 
Hometown: Houston, Texas
Abraham attended both public school in Houston and The Hotchkiss School for high school. Abraham dedicated his school career so far to his classes, working, and track and field. At public school in Texas, Abraham was the President of the National Honors Society and ran track. He is proud that he was able to graduate with honors while juggling his AP classes, sports, and work. Abraham was part of a club called "Green is Love" that his coach began. The club planted trees, picked up trash on the highway, and recycled every week. Abraham says that he felt like the club had a positive influence despite being in a city where environmental values can be hard to come by. At Colby, Abraham would like to prepare for medical school. He is interested in majoring in either Neuroscience or a humanities major yet to be discovered as an interest. Abraham likes to write, especially about sports literature and African American literature. He is excited to take writing seriously. Abraham would like to learn a new language and explore new interests and passions. He plans to join the cross country, indoor, and outdoor track teams at Colby.
Sarah Vaughan 
Hometown: Lexington, Virginia
Sarah attended the Rockbridge Christian Academy in Lexington, Virginia. The high school is new; she was part of the third class to fully graduate from the Academy. The new school did not have many opportunities for classes yet, but Sarah was able to work with the faculty to bring in pre-calculus and physics classes her senior year. She aspires to be pre-med and major in biology with the intent to become a surgeon. Sarah's grandmother was a nurse, and her experiences inspired Sarah to help others. Sarah is also a dancer. She has practiced clogging, a style of folk dance, for five years and ballet for two years. She hopes to continue dancing at Colby. Sarah would also like to explore outdoor activities since Maine and Colby have so many outdoor recreation opportunities to offer.