---
The Davis Projects for Peace has issued an invitation to undergraduates at colleges and universities in partnership with the Davis United World College Scholars Program to design grassroots projects that they will implement during the summer. The projects judged to be the most promising will be funded at $10,000 each. The objective of the Program is to encourage and support today's motivated youth to create and test their ideas for building peace throughout the world.
The Office of Grants and Sponsored Programs at Colby College manages the portfolio of Davis Projects for Peace and works with students to develop and submit their projects for awards.
---
HOW WOULD YOU USE $10,000 TO BUILD PEACE THROUGHOUT THE WORLD?
---
Application Entry Deadline: Friday, November 18, 2022
Send us your two-page project proposal and one page budget to [email protected].
The projects judged to be the most promising will be funded at $10,000 each.
To be considered, a student (or group of students) must prepare a written statement that describes the project (who, what, where, how) including expected outcomes and prospects for future impact. The written statement should be two-pages (11-point type or larger) and a budget should not be more than one page.
If you have any questions please contact Seven Grenier in the Grants office at [email protected] or tel: 207-859-4341.
Please do not directly contact the Project for Peace Program at the Davis United World Scholars Program office.
For more information on the Projects for Peace initiative, please visit the Colby Grants Projects for Peace website or the Davis Projects for Peace website.
Many thanks to all Colby students who designed and developed fabulous Projects for Peace this year!
We are very pleased to announce that the Davis Projects for Peace Initiative selected the following two Colby student projects, "FlippED Mentorship Program (Formerly Known As Eridanus)" and "Transforming rural areas in Vietnam through waste management", to receive 2022 Projects for Peace funding.
---
Erica Lee '24 originally founded Eridanus in 2017 to foster stronger connections between ethnic minorities and local students in Hong Kong to create a multicultural platform for exchanging cultural values and stories. After working with different ethnic minorty groups in Hong Kong for a few years, Lee decided to extend her project to the refugee community. FlippED (a revamped Eridanus) will be the first local-refugee peer mentorship program in Hong Kong which is led by secondary and university students. The program consists of three main elements: mentorship, language support, and cultural exploration.
"It's important to create an environment that is inclusive because I personally have experience on how local school students have some bad stereotypes against specific individuals just because of their nationality, race, or color." — Erica Lee, Colby College '24
---
In Vietnam, Linh Dinh '25 has the goal of turning organic waste into fertilizer to decrease the amount of domestic waste and discourage the burial of unmanageable waste. In the short-term, this project will reduce the amount of organic waste by turning them into fertilizers, hence protecting the local environment. In the long-term, the project will raise awareness of collectors, and show how small steps can be taken to create a healthy, sustainable living environment.
"To me, peace does not only mean the absense of war. It also means the presence of an equitable and safe environment in which members of society can develop to their fullest potential" — Linh Dinh, Colby College '25
---
PROJECTS FOR PEACE 2018: PLAYGROUNDS FOR PEACE
---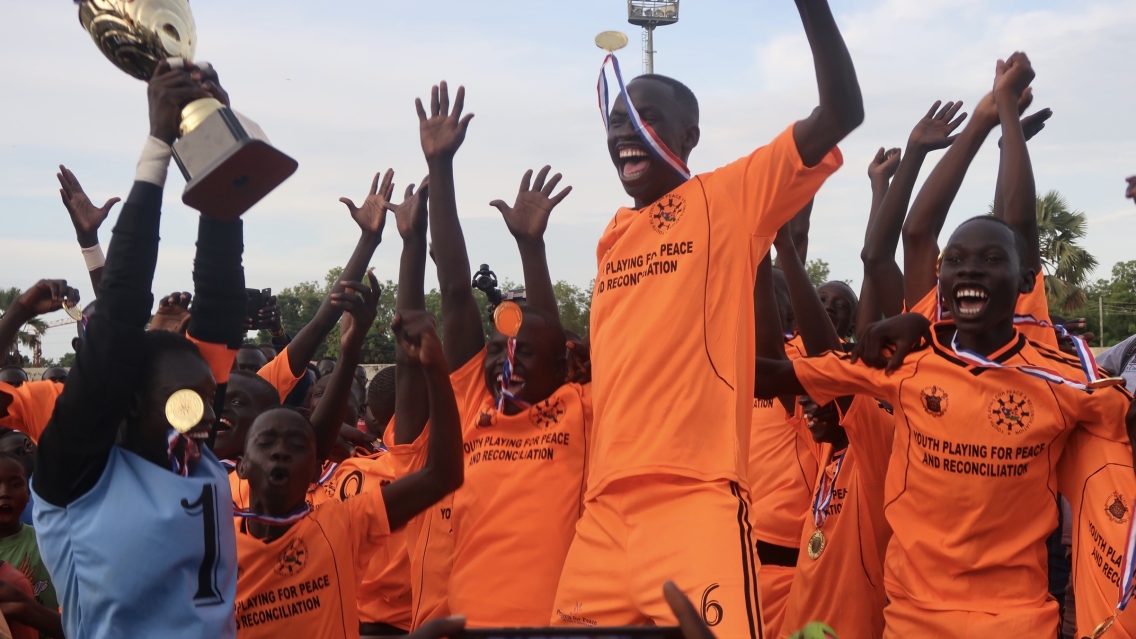 ---
"Play leads to important developmental skills that, in turn, encourage peace. Playgrounds for Peace will firstly contribute to peace by giving children a space for self-directed play. This space, in turn, fosters an attitude for exploration both academically and otherwise. The playgrounds built also act as a blueprint for future playgrounds in the region. Thus, the project, in the long-term, will lead to more playgrounds, more play, and so encourage more peace."
— Kieran Dunn, Colby College '20
---
Kieran Dunn '20 led this project with the goal of bringing peace to Zimbabwe communities through play. By building playgrounds and organizing a sports tournament among neighboring communities, he brought a spirit of recreation and well-being to the area. Dunn's efforts align well with the Davis Projects for Peace mission of creating and maintaining a more peaceful environment with innovative techniques.
This was a Project for Peace.
PROJECTS FOR PEACE 2016: PEACE THROUGH WATER
---
---
"Peace is a state of mind… my project will bring peace to students in my village in Kenya."
— Benard Kibet, Colby College '18
---
This is Benard's second Project for Peace award and it focused on making water readily available to schools and to the main health center in his village in Kenya. The project successfully created a self-sustaining water pump and designed plans for a larger water tank. An immediate impact is that students spend more time in school learning since they no longer need to spend time fetching water in the morning and at the end of the day. Another major benefit is that the local health center has water near its facility for the first time which lowers operating costs and enables better health care. Benard believes that these tangible benefits will improve the economic condition of the community.
Benard reflected that "This project has changed the way I think about the world…It has taught me that one really does not need to do big things to have impact on people's lives…the impact on my village has had an amazing ripple effect throughout the community."
This was a Project for Peace.
PROJECTS FOR PEACE 2015: BUILDING CLIMATE RESILIENCE IN CHILE
---
"The long-term solutions to the escalating drought struggle will come from the younger generations of central Chile. In the short term, however, we need to build resilience. By creating the reforestation facility in their school, the children of Jahuel will be empowered to work hands-on with their surrounding ecosystems."
— Guillermo Sapaj, Colby College '15
---
Due to the effects of climate change, Central Chile's alpine ecosystems have become severely threatened in recent years. These threatened ecosystem evolved in specific climatic conditions that gave them unique patterns of biodiversity, harboring many endemic species essential for the livelihoods of rural communities. This project was designed to promote peace in the Aconcagua valley by empowering the children of a rural community to implement a conservation effort within the context of conflict brought on by escalating drought, water scarcity, and desertification.
This was a Project for Peace.
PROJECTS FOR PEACE 2011: EMBROIDERY EMPOWERS AFGHAN WOMEN
---
"Yes, this is a small project, but what I'm doing here is making a difference."
— Sulaiman Nasseri, Colby College '12
---
In Kabul, Afghanistan, Colby College senior Sulaiman Nasseri lived under the Taliban regime and saw the nightmarish ways it treated women. "I wanted to do something for the women of Afghanistan — especially for my mom," he said. "I am here because of her." Talking with his family, he hatched an idea: his project would train women from a poor neighborhood to do professional embroidery, and equip them with simple tools.
Sulaiman Nasseri had read a study that ranked his home country of Afghanistan as the worst place in the world for maternal well-being. This struck a chord, and he imagined a Project for Peace that would help destitute mothers in Kabul earn enough money to feed their families and send their children to school. His idea was to accomplish this through the teaching of the traditional art of Afghan embroidery, and then to bring the hand-embroidered goods to market in Afghanistan and elsewhere.
Over the course of the summer, Sulaiman conducted three phases of his project. He first hired experienced embroiderers as trainers. Next, he worked with local organizations to find the most needy and highly motivated women to learn the embroidery techniques. Finally, after some weeks of training, participants took materials to their homes where they made up goods to be sold. The embroiderers are paid for their work, and roughly ten percent of the profits go back into the program in order to expand and train more participants. The beautiful finished goods are marketed and sold in Afghanistan and through Etsy, an online marketplace.
From the outset, Sulaiman's goal was not only to provide the women with the resources to help themselves, but to give them the means to get their children off the streets and into school. So far, more than twenty children have entered school, keeping them out of the child-labor market and making them less accessible targets for ever-present terrorist groups.
The eighteen women who now earn income from embroidery have an average of four children each. The project has enabled many of their children to attend school "who would otherwise," Sulaiman said, "have worked on the dangerous streets of Kabul as child laborers to find livelihood for their families." The three trainers recruited for the project have reported that its work continues. The women are producing embroidered clothes, popular among Afghans, and a city shop is selling them. "Yes, this is a small project," Sulaiman summed up. "But what I'm doing here is making a real difference."
This was a Project for Peace.
PROJECTS FOR PEACE AWARD RECIPIENTS
---
2022
Erica Lee: FlippED Mentorship Program (Formerly Known as Eridanus) – Hong Kong
Linh Dinh: Transforming Rural Areas in Vietnam through Waste Management – Vietnam
2021
Naoki Kihata and Jiwoo Kim: Mentor-Mentee Program for Promoting Mental Health in Korean Youth – South Korea
Keerthi Martyn: Art for Peace – Haiti
2020
Sravya Bahudodda and Faiza Qazi: Sew in Peace: A Menstrual Health Initiative for Refugees – Uganda
2019
Emmanuel K. Cheruiyot: Tumoiyot Primary School Library – Kenya
2018
Kieran Dunn: Playgrounds for Peace – Zimbabwe
2017
Lijie (Reggie) Huang, Long Yung (Grace) Yu: Empowering Environmental Activism Through a Documentary – China
2016
Kumba Seddu: Because WE CARE – Sierra Leone
Benard Kibet: Peace Through Water – Kenya
2015
Guillermo Sapaj: Building Climate Resilience: Empowering Children in Community-based Conservation – Chile
Benard Kibet: Msingi Thabiti (Strong Foundation) – Kenya
2014
Mackenzie Kennedy: Tumaini (Hope) Learning and Development Center for Orphan Girls – Kenya
Sara LoTemplio: Project Cuidamos – Nicaragua
2013
John Bengtson, J. Samuel Chase, Joseph E. Long, Javier Monterroso Montenegro: The Migrant Peacebuilding Project – Guatemala
2012
Jenny Chen: Connecting the Dots – USA
2011
Sulaiman Nasseri: Empowering Afghan Women Through Embroidery, Afghanistan
Tamer Hassan: Finding Community – USA
2010
Jenny Chen: Speech Bubbles Editorial Panel Program, USA
Ahmed Asi, Jeff Carpenter, Michael Hempel, Sulaiman Nasseri, and Fazal Rashid: Journey into Culture II – Germany
2009
Ermira Murati: Encouraging Youth Entrepreneurship – Kosovo
Sarah Joseph Kurien: In Peaces: Reconstructing Religious Tolerance – India
2008
Qiamuddin Amiry and John Campbell: Afghan Scholar Initiative – Afghanistan
Emily Goodnow and Nancy McDermott: Awn Be Se: A Project for Empowerment in Bamako – Mali
2007
Christine Avena: Creating Peace Through Animals – Ecuador
Melyn Heckelman, Victoria Yuan: Peer-Based Sex Education for Gao Zhong (High School) Students – China
---
The Davis Projects for Peace were originally made possible by Kathryn Wasserman Davis, an accomplished internationalist and philanthropist. Upon the occasion of her 100th birthday in February of 2007, Mrs. Davis, mother of Shelby M.C. Davis who funds the Davis UWC Scholars Program, chose to celebrate her milestone by committing $1 million for one hundred Projects for Peace. "I want to use my 100th birthday to help young people launch some immediate initiatives – things that they can do during the summer of 2007 – that will bring new thinking to the prospects of peace in the world," said Mrs. Davis in 2007. Despite Mrs. Davis' death in 2013, the program is being sustained through the United World College Scholars Program.