Class Projects
FR355, The Other French Empire, Then and Now
(Paliyenko)
Darcy Gott '23- La Mulâtresse Perdue
As part of her independent research project for FR355, Darcy Gott wrote a graphic novel inspired by "la mulâtresse Solitude" (circa 1772-1802), a forgotten historical figure who was martyred in the fight against slavery in colonial Guadeloupe.
FR128 and FR232 students
(Dionne)
During the Fall 2021 semester, students in Cultural Encounters: Engaging with Literature and Media (FR128) and The Rise and Fall of Versailles (FR232), created museum labels with a focus on the historical context of Toussaint Louverture's life.
Each class went to the Colby Museum of Art to see the exhibit Jacob Lawrence: The Life of Toussaint L'Ouverture, and all the students were able to contribute their interpretations of the prints during their visits. Then the students worked individually on a print of their choice before being paired with the student from the other class who chose the same print. Next they collaborated to develop and write museum labels in French, selecting the most relevant details of the historical context, before translating them into English.
–Valérie Dionne, Associate Professor of French
A Round Table on the Holocaust
French majors Kristin Nissen, Sara Ramsay and Aileen Evans lead a round table on Holocaust memory. They led three round tables on Holocaust memory at the Holocaust and Human Rights Center of Maine, Augusta.
CLAS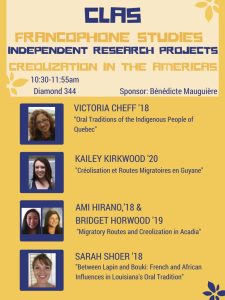 Digital Humanities Projects