Upcoming and Recent Events
2021-2022 Events
Informal Talk Followed by a Q&A Session
With Rapper and Activist Liberato Kani
Date: April 4th, 2022, 2:30-3:15 pm
Location: Pugh Center (via Zoom)

Freedom, Rights, and Resistance in Latin America
Date: April 8th, 2022 @ 7:00pm
Location: Parker-Reed Room, Schair-Swenson-Watson Alumni Center
Brazilian Portuguese for Spanish Speakers
Email [email protected] for more information!
Media vs. Organized Crime: Comparing Al Capone and the Mexican Cartels
Date: Thursday, October 14th @ 7:00pm
Location: Diamond 122
Music and Gesture: The Music of José Martínez
Date: Saturday, October 7th, 2021 @ 7:00pm
Location: Greene Block + Studio, 18 Main St.
Lyrics para el Soul: Spanglish Creative Writing Contest
Lyrics para el Soul: Spanglish Creative Writing Contest
Submission Deadline: Monday, April 5th @ 11:59 PM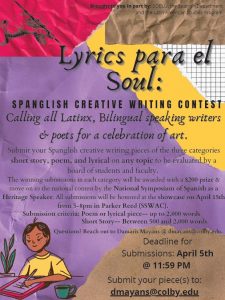 Virtual Conversation with Laura Wides-Muñoz and Hareth Andrade Ayala
Immigration Reset: Re-imagining the Dream
Date: Wednesday, March 17th @ 7:00pm
Location: Zoom
Indigenous Discussion Board With Dwayne Tomah & Maura Sullivan
Date: Saturday, November 11th @ 1:00pm
Location: Zoom
Virtual Conversation with Jayro Bustamante
Date: Wednesday, November 11th, 7:30-8:30pm
Location: Maine Film Center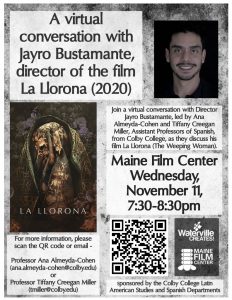 Study Abroad Info Session With the Spanish Department and Latin American Studies Program
Date: Monday, November 9th @ 6pm
Location: Zoom
Latinx Hispanic Heritage Month (LHHM) Keynote Address
These Are My Transgressions: A Confession Against Binary
Nereyda Luna '20
Date: Thursday October 22nd @ 6 pm
Location: Ostrove Auditorium, Diamond