Production Archive: 2020-2021
FASTfringe
Festival
October 9, 2020
Fire on the Hill

Directors: AB Brown & Jessie Laurita-Spanglet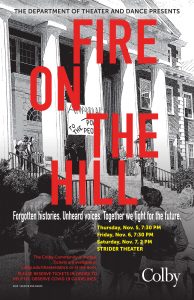 Fire on the Hill is a collaboratively devised performance presented by Colby College's Department of Theater and Dance and directed by AB Brown with choreography by Jessie Laurita-Spanglet. Built using interviews from those who have been involved in activism on campus, this performance weaves together text and movement to create an immersive theatre experience that explores the past, present, and future of activism at Colby. Fire on the Hill investigates Colby's fluctuating relationship to activism, the challenge of building on the steps we have taken so far, and the frustrations that bubble up when change is slow to come. Ultimately, the production seeks to honor past activists and asks what activism can and should look like as we move forward in our current politically and socially charged moment.

Show Up Stand Up Speak Up
Theater and Dance presents Show Up Stand Up Speak Up, a brand-new evening of original, story-based performance about the issues Colby students are most passionate about in their lives. Through the JanPlan Activist Storytelling Workshop, students will write and rehearse a series of short solo and small group pieces inspired by what change they would like to see in our world, and then present their new work to audiences on campus in Strider Theater.
Written & Performed by Stacy Lovelace, Kat Mackay, Nanneke Nicholas, William O'Connor, Maddy Perfetti, and Sylvia Shelton 
Directed by Dana Legawiec
Assistant Directed & Stage Managed by Brianna LaValle

wave~length
Seven dynamic collaborations between light designers and choreographers exploring the interaction between light and movement. Created by students in Choreographic Process (TD285) and Light and Performance (TD265).
wave~length presents an evening of seven short original solo dances created by students in TD285 Choreographic Process and TD265 Light and Performance. These experiments in performance use structured performance as research process centered on discovery and critical analysis to explore the relationship between light and choreography. While each piece features a solo performer, in this shared creative process, light itself becomes another performer—perhaps leading the dance sometimes or responding to the dancer's invitations at others. Over the past six weeks, choreographers and light designers built these performances through a series of light and movement studies propelled by thematic variations. The final seven pieces celebrate the results of those inquiries.
Topdog/Underdog
By Suzan-Lori Parks, Winner of the 2002 Pulitzer Prize
A darkly comic fable of brotherly love and family identity is Suzan-Lori Parks riff on the way we are defined by history. The play tells the story of Lincoln and Booth, two brothers whose names were given to them as a joke, foretelling a lifetime of sibling rivalry and resentment. Haunted by the past, the brothers are forced to confront the shattering reality of their future.
Lincoln – Gerald Aviles '21       Booth – Avery Ford '22J
Topdog / Underdog shows how the relationship and lives of two brothers can be crushed by systemic pressures facing them. The brothers were born into a world that neglects them because of their race, subjects them to poverty, and offers them no help after abandonment. This isn't a theatrical made up place, it is set now; this is real life in the real world. In order to portray the character Booth, I have sifted through my youth and my own memories from growing up in a broken household. Like the lives of these characters, Lincoln and Booth, for black men in America, the line between being stable and safe and is as thin as a playing card. —Avery
This show shines a light on the reality of daily life for men of color raised in urban centers across America. Every kid from the hood dreams about making it out and getting rich, just like my character, Lincoln, who has abandoned the life of a street hustler to earn an "honest" living.  Growing up on the streets of New Orleans, I never thought that I would make it out and be where I am today. To me, the fact that I am able to be on this stage and share this story is powerful–to increase representation for BIPOC in a predominately white institution is critical– now more than ever. This story sheds light on the complex emotional lives of men of color. You can never forget your roots. —Gerald
Though a high school teacher discouraged her from writing because of her poor spelling, Suzan-Lori Parks went on to become one of the most successful playwrights in the United States. The first African-American woman to win the Pulitzer Prize for Drama (2002) and a pioneer of historically conscious and linguistically complex theater, her work is now taught at drama schools across the country. (From National Women's History Museum)
colby fringe festival
April 30 to May 13, 2021