Editorial Style Guide
Consistent style and usage are essential to conveying quality and professionalism in our written communications. Click below for a guide to Colby standards on capitalization, punctuation, and more.
View Style Guide
Primary Typefaces
There are two primary typefaces, available to all Colby users, a sans-serif and serif. These complimentary typefaces reflect the Colby brand with a positive, contemporary style. A wide range of weights offer flexibility for any digital or print application. These are variable fonts, a new technology that makes styling easier and more precise for web use and professional print applications such as Adobe InDesign.
These typefaces are not meant to replace fonts already in use for the campaign or for specific branding purposes. It is suggested that departments using typefaces for print marketing review their use of typefaces and font licensing.
For help using Libre Franklin and Literata through Google Fonts, contact ITS web support. These fonts are also available free to download directly through Google Fonts. Links are given below.
Sans-Serif
Libre Franklin is our primary sans-serif typeface. Libre Franklin has a slightly rounder finish, and is optimized for digital use, while offering excellent readability at all sizes in print materials. It is replacing Franklin Gothic for the general Colby user.
Libre Franklin can be used as the main font for headlines, body copy and captions for print, web and social media communications. A wide range of weights are available. Colby recommends using Libre Franklin in font weights Thin, Light, Regular, Bold, and Black.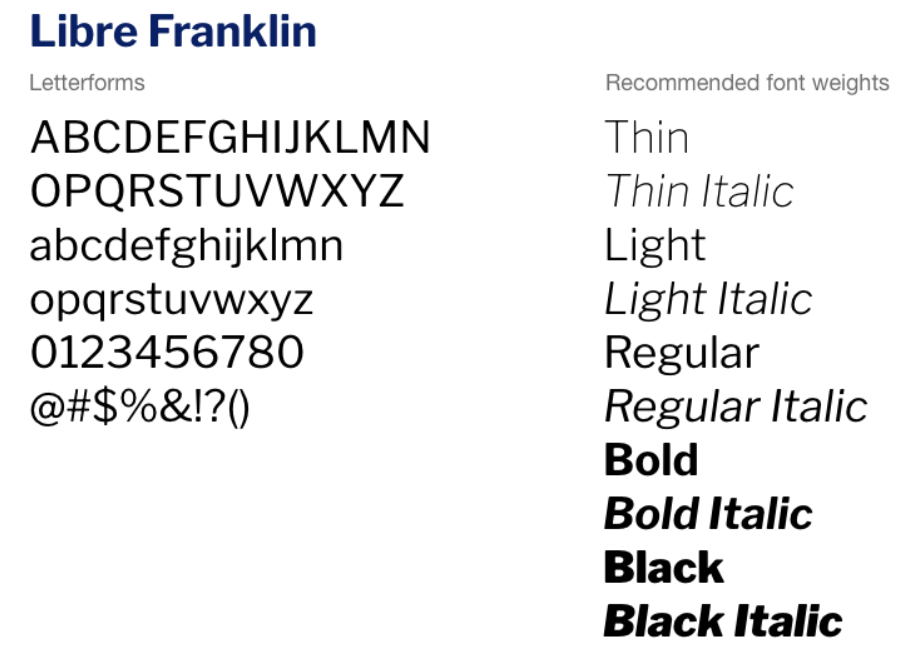 Serif
Literata is our primary serif typeface. Literata works well in combination with Libre Franklin. The typeface is slightly condensed, making it efficient for large bodies of text. Literata is also useful for adding style and differentiation to digital and print materials when a more formal look is appropriate, such as for the Board of Trustees. It is replacing Janson Text for the general Colby user. 
Google funded the development of Literata in collaboration with a number of international design experts. It offers a number of stylistic and technical advantages. Literata features a wonderful upright italic, which is very easy to read. It is a variable font and is optimized for digital and print applications. Colby recommends Literata in font weights Light, Regular, Medium, and Bold.
Download Our Primary Typefaces
Both fonts are easily accessible through Google Fonts:
Consistent use of these typefaces help reinforce Colby's brand identity. Please contact the Office of Communications for more information regarding use of typefaces for Colby digital and print materials.
Alternative Typefaces
When Libre Franklin is not available, please use the san serif typefaces Arial or Helvetica. When the serif Literate cannot be used, Times New Roman is recommended. These fonts are preinstalled on Apple and Windows computers. 
Expanded Language Support
Libre Franklin and Literata support multiple languages. If support is needed for additional languages, please contact ITS. If necessary, Noto Fonts can be used as an additional resource to the primary typefaces, not as a replacement. Noto Fonts can be used for all digital and print applications.
Athletics and Recreation Typeface
Athletics and Recreation uses Vitesse, a slab serif typeface selected specifically to represent their sub-brand and to be used in their communications. Vitesse is for Athletics and Recreation only and may not be used for any other College communications.
Dare Northward
The two main typefaces used for the Dare Northward evolved brand are Victor Serif and Swiss 721.
Victor was chosen to bring a more elevated and refined feel to the brand to support Colby's position as a leader.
Swiss 721 was selected for its more workmanlike quality, which supports Colby's culture of getting things done.
Please contact the College's Advancement Office for font usage information and files:
Rebekah Scaduto, Director of Advancement Marketing and Communications
[email protected]  |  207-859-4382
Installing Fonts on Your Computer