Colby is guided by the principle that the most-talented students from every background should have access to the best possible education regardless of their families' financial circumstances. Colby's financial aid program has been recognized as among the most generous for the students with greatest financial need by the Chronicle of Higher Education. Since 2014, Colby has increased its financial aid budget by 80 percent, and its Pell-eligible population has increased by 72 percent.
Through the Colby Commitment, the College meets 100 percent of each admitted student's demonstrated financial need with grants instead of student loans in financial aid packages. Families with a total income of $65,000 or less can expect a parent or guardian contribution of $0. For families earning up to $150,000, Colby's Fair Shot Fund ensures the parent or guardian contribution will not exceed $15,000.
Premier facilities are essential to the College's commitment to excellence in all endeavors and to fostering healthy, active lifestyles. Our 350,000-square-foot state-of-the-art Harold Alfond Athletics and Recreation Center is the most advanced and comprehensive NCAA D-III facility in the country and has become a center for training, competition, and recreation for the community. The center's size and capacity is enabling a level of sports, fitness, and recreation that is unavailable at many institutions and has allowed Colby to launch a new and unique fitness and recreation program for the entire campus. A comprehensive new outdoor competition center provides exceptional playing fields and enhances the spectator experience.
Colby is taking a leadership role in developing a new model for the liberal arts—one that infuses the pursuit of knowledge with opportunities to apply this knowledge to complex global issues. This innovative approach has been strengthened and streamlined in a renovated and expanded Grossman Hall, which houses our groundbreaking DavisConnects program supporting research, internships, global experiences, and postgraduate planning in an entirely new way. (Photo: Trent Bell Photography)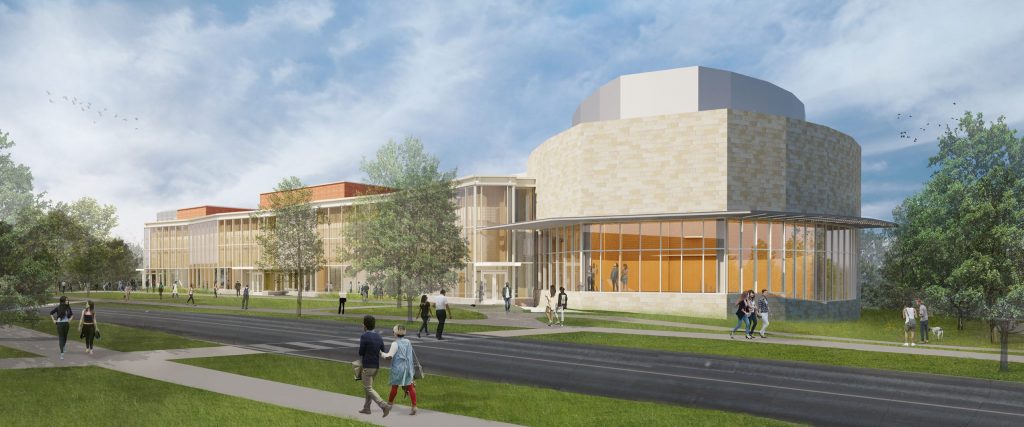 Now under construction, the Gordon Center for Creative and Performing Arts will be the most advanced and innovative arts facility in the region and the new home for Colby's Departments of Theater and Dance and of Music and the Cinema Studies Program. The 74,000-square-foot center will encourage multidisciplinary, creative collaborations among faculty, staff, and students in unexpected and exciting ways.
Through meaningful partnerships, Colby has been advancing a rejuvenation strategy to establish Waterville as a destination for the arts, shopping, and recreation since 2015. To date, Colby's $85 million of catalytic projects have led to $200 million in total investment downtown, helping to propel Waterville's transformation into an active retail and cultural center with dynamic public spaces that will serve all of Central Maine.
Greene Block + Studios, Colby's one-of-a-kind venue for artistic creation, innovation, and community interaction located on Main Street, provides space for interdisciplinary artistic collaborations and promotes the development of creative work by Maine and national artists, educators, scholars, and students. The Paul J. Schupf Art Center brings the Maine Film Center, Ticonic Gallery + Studios, Waterville Opera House, and the Colby College Museum of Art's Joan Dignam Schmaltz Gallery of Art to the heart of downtown. Together, these spaces support a range of arts-centered programs and events, ensuring access to superior cultural programming for the entire community.
The College has spearheaded a number of redevelopment efforts to support Waterville's reinvention as a strong, vibrant community in which to live and work. Initiatives that are helping to reinvigorate the city include the high-tech center at 173 Main Street, now fully leased with diverse retail and business tenants; the Lockwood Hotel and its acclaimed restaurant, Front & Main; the Bill & Joan Alfond Main Street Commons, a mixed-use residential complex with public space for community engagement; and upgrades to streetscape and traffic movements throughout downtown to make it more pedestrian-friendly.